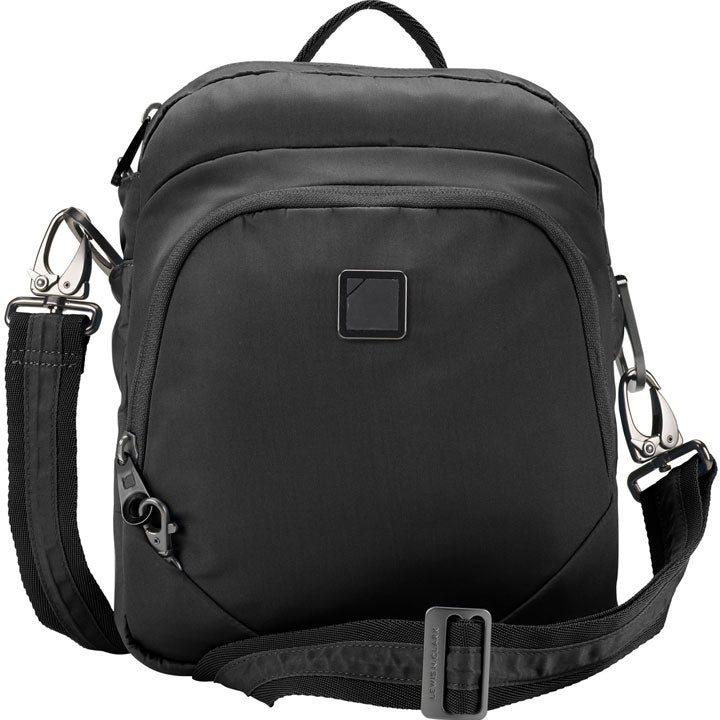 Lewis N Clark Secura Anti-theft Convertipack
With this unique 3-in-1 convertipack, you don't have to choose between a backpack, cross-body, or shoulder bag. You can have all 3 wherever you go, allowing you change how it's carried so it comfortably accommodates your changing circumstances.
Utilizing an internal stainless steel cable as well as slash-resistant fabric panels, it provides a functional but sophisticated way to organize your belongings.
The locking hardware is also easy to use. Just simply secure the bag to a stationery object such as a chair or desk so it won't easily be snatched away.
The lightweight, durable nylon exterior of the bag resists dirt and water, and the interior accommodates small tablets, passports, pens, music players, medications, and more.
You can also confidently store your belongings in this without worrying that concealed RFID scanners are reading your confidential information.
Use this convertipack as an everyday bag on the way to work, the grocery store, or the gym, or use it for traveling to trade shows, resorts, or anywhere in-between.
Convertible 3-in-1 use as a shoulder bag, cross-body, or backpack
Durable nylon exterior with water-resistant PU coating
Lightweight, flexible, and slash-resistant Magnaloft fabric panels in crucial compartments
Tested to cut-resistant EN388 standards
Locking swivel hardware
Internal zip pocket
Internal passport and hotel room key pockets
Exterior locking pocket for phone, pen, and essentials
RFID-protected card slots
Carry handle
Anti-slash adjustable shoulder strap with internal stainless steel cable
Prevent grab and go thieves by securing bag to a chair, bar, or post
10.5in x 8.5in x 3.5in