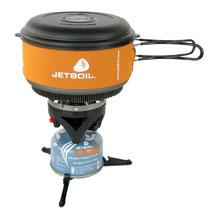 Jetboil Group Cooking System
Jetboil's Group Cooking System (GCS) brings greater capacity and versatility to fast and efficient outdoor cooking. It features Jetboil's new 1.5 Liter pot with patent-pending FluxRing™ heat exchanger to double heat transfer efficiency and enable super-fast boil times. Like the original Jetboil®, the GCS is twice as fuel efficient as traditional camp cooking systems and will bring two cups of water to boil in about two minutes, or a liter in about four minutes. Its FluxRing™ heat exchanger allows the GCS to boil up to 50 cups (12 Liters) of water from one micro-canister of Jetpower fuel. The GCS integrates a burner with built-in igniter, 1.5 liter pot, pot support, and stabilizer into one compact unit. The 1.5 liter pot is made from hard-anodized aluminum for even heating and superior heat transfer, and features a wide aperture for easy frying and simmering, an insulating Neoprene cozy, and a snap on plastic lid for secure storage. All components, as well as fuel, stow within the pot so you can take it anywhere. As the new GCS and original Jetboil PCS share the same burner base, the systems are cross-compatible, allowing users to add components to each to create a customized cooking system. In addition the GCS can also be used with traditional flat-bottomed cookware.
Technical Specs:
1.5 L Pot + Burner + Pot Support + Stabilizer
Product Weight: 19 oz (540 g)
Dimensions: 7.0" x 4.5" (175 mm x 110 mm)
Volume: 50 oz (1.5 L)
Boil Time @ 80% efficiency and 4500 BTU/hr output
1/2 Liter (2 cups) 2 minutes 1 Liter (4 cups) 4 minutes
Prop 65 K (1,3-Butadiene): This product can expose you to chemicals including 1,3-Butadiene, which are known to the State of California to cause cancer and birth defects or other reproductive harm.
https://mtn-sports.myshopify.com/pages/prop-65-frequently-asked-questions