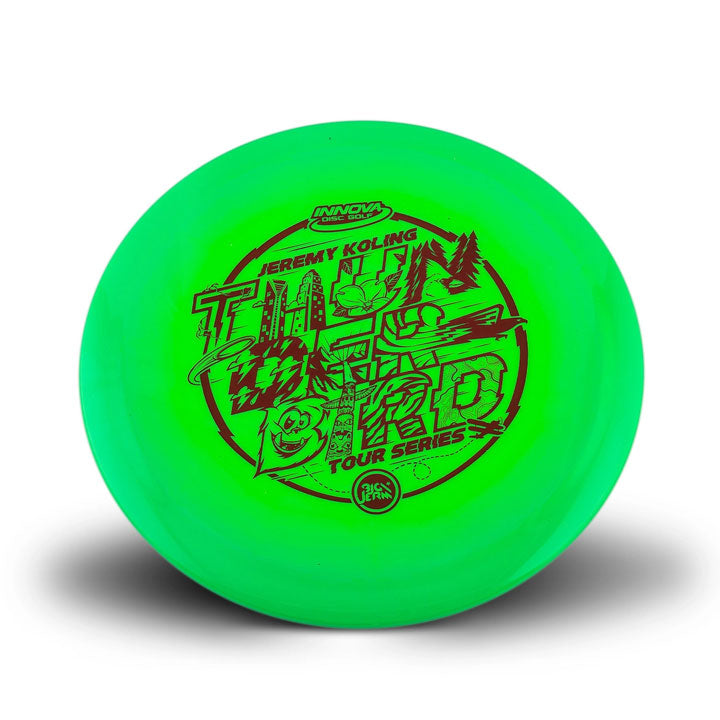 Innova Thunderbird Jeremy 'Big Jerm' Koling 2022 Tour Series
The Jeremy "Big Jerm" Koling Tour Series Star Thunderbird is just flat and stiff enough for the flicks yet soft enough to trust the grip and smash backhands with confidence. Just as in past years, the Koling Thunderbird has a bit more stability than your standard Thunderbird, and is molded with a flatter finish for superior in-hand feel. The Koling Thunderbird is predictable in wind and a versitile long-range placement driver. Pros will appreciate the shot shaping ability of this driver while less experienced players will find a consistent, predictable flight.
A substantial portion of each sale will benefit Jeremy Koling and his touring efforts.
Stamp colors are fulfilled at random. Product photos are a representation of the variation of disc/stamp colors available, and the disc you receive may not match any specific photo. Discs listed as "unique" color will vary and generally fall between other existing colors.
Release Date: 6/2/2022