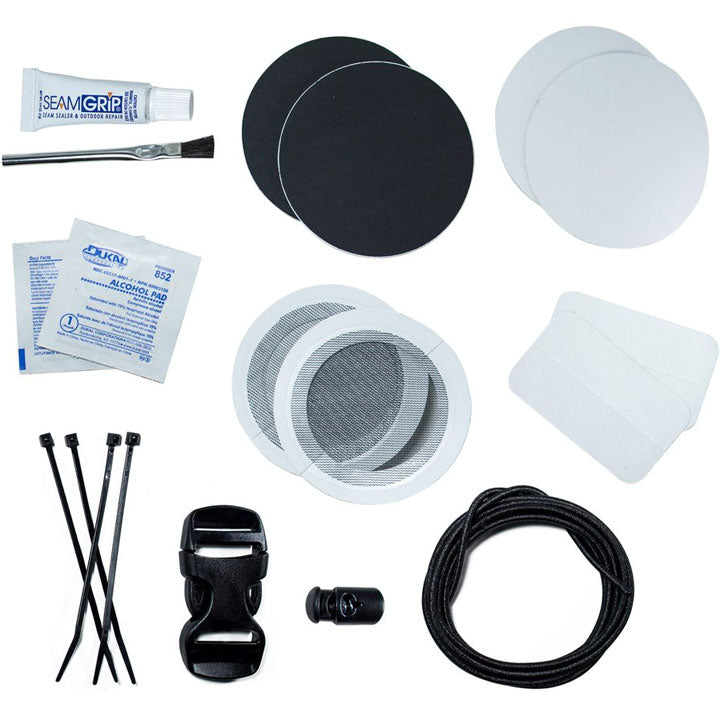 Gear Aid Tenacious Tape Camp Repair Kit
Leaky tent got you down? We've all been there, but don't give up on your outdoor gear just yet. The Camp Kit by GEAR AID makes it easy to complete quick, in-field repairs to rips, tears, holes and broken camping equipment. With this lightweight camp kit, you can patch a burn hole, repair a leaky tent or replace a buckle. The kit includes 19 essential repair supplies, including Seam Grip and Tenacious Tape. Don't leave home without it!
A lightweight and compact kit measuring 6.5" x 5" and weighing only 2.3 oz; includes 19 essential repair supplies valued at $30
Makes quick, in-field repairs to sleeping bags, inflatable mattresses, tents, tarps, backpacks, and outerwear
Contains a ¼ oz. tube of Seam Grip, one applicator brush, six Tenacious Tape patches, two Bug Mesh patches, four 8" zip ties, two alcohol wipes, a 1" Dual-Adjust Buckle, an Ellipse Toggle, and 80" of Elastic Shock Cord; enclosed in a ripstop bag with basic repair instructions
Seam Grip is commonly used for sealing seams or to repair all types of materials including nylon, vinyl, rubber, and more
Tenacious Tape is ideal for making fast, peel and stick repairs to ripped outerwear, waders, sleeping bags, and tents; it sticks to polyester, nylon, plastic and more
Prop 65 P (Toluene): Using this product will expose you to toluene, a chemical known to the State of California to cause birth defects or other reproductive harm.
https://mtn-sports.myshopify.com/pages/prop-65-frequently-asked-questions