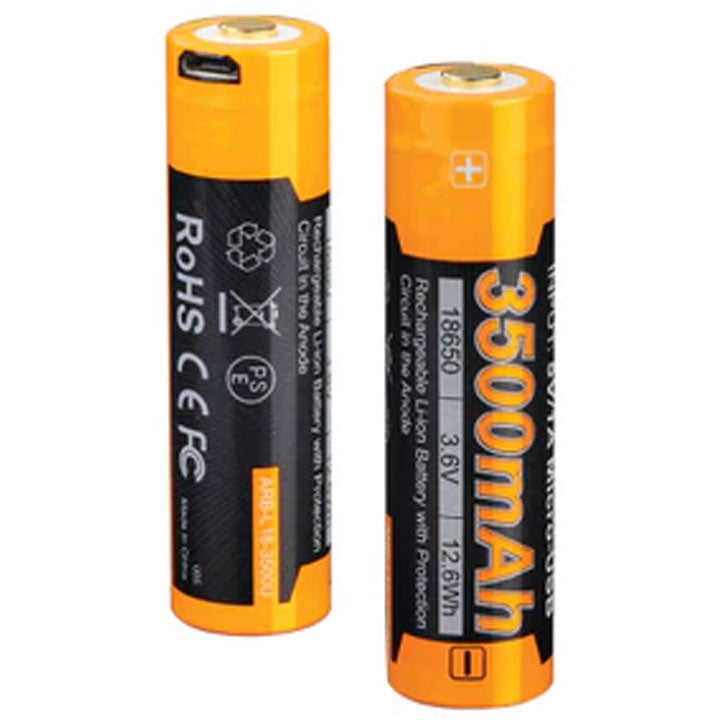 Fenix 3500U Rechargeable 18650 Battery
The biggest and baddest Fenix battery just got upgraded! Please welcome the Fenix Fenix ARB-L18-3500U USB rechargeable lithium-ion battery! The ARB-L18-3500U battery can be charged by its built-in USB port or by an external battery charger as well. A protective circuit is built into the anode and covered with a riveted steel hat. The battery is fully covered with the steel shell; thus, the potential risk of short circuiting caused by collision or impact is hugely eliminated!
Features:
Fenix ARB-L18-3500U mAh USB Rechargeable 18650 Battery
Micro USB charging port lets you charge the battery directly
Button-Top Design
Protection circuit built in the anode with a riveted steel hat. Riveted steel shell eliminates the risk of short circuit caused by collision and impact.
Pressure Relief Vent: Expels waste gas generated by internal short circuit. Expelling waste gas prevents a cell from inflating or exploding.
Three Sets of Over-Heat Protection: Overcharge protection, Over-discharge protection, Short-circuit protection, and overheating protection
500 Charge Cycles: A properly maintained ARBL18 battery is designed to retain up to 75% of its original capacity at 500 full charge and discharge cycles.