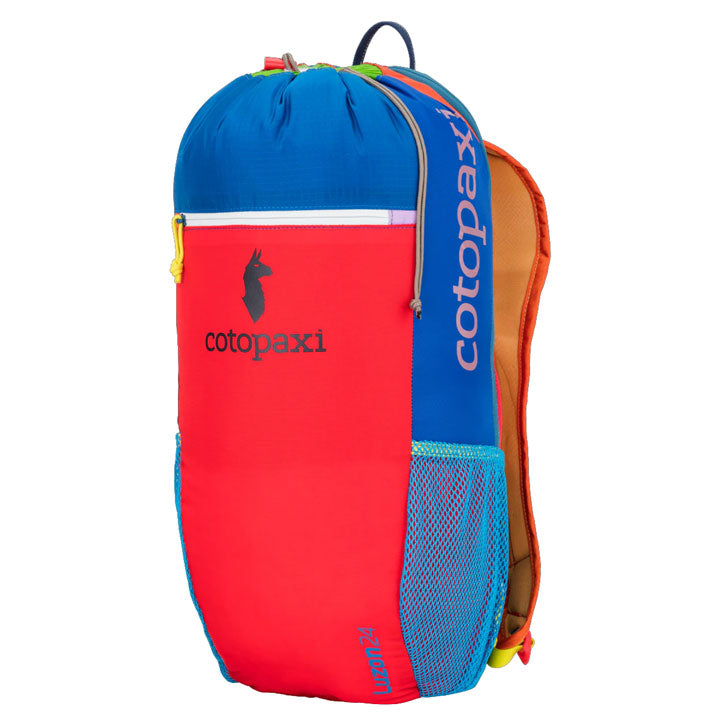 Cotopaxi Luzon Del Dia 24 Liter Backpack
Each Cotopaxi pack in the Del-Dia collection is a different color. The picture show is just a stock photo and your pack will be a different color. You can contact us if you want to get an idea of colors on hand. Each pack in this collection is one-of-a-kind.
Cotopaxi likes to think of the Luzon 24L as the big brother to their do-it-all Luzon 18L, featuring everything we love about that pack, plus a few extra features and added capacity. Made from 100% repurposed nylon fabric, the pack features ultralight mesh shoulder straps that make it easy to stow inside a larger travel pack or duffel. It also features a zippered compartment to keep dirty clothes or muddy shoes separated from the rest of your gear and two mesh bottle sleeves to keep your drinking vessels close at hand.
FEATURES
Lightweight, remnant nylon fabric
Large main compartment
Zippered shoe pocket with internal divider
Top drawstring closure
Front zippered pocket
Ultralight mesh shoulder straps
Internal organizer with key clip
Dual mesh water bottle pockets
One-of-a-kind Del Día colorway
SPECS
420g (.93lbs)
24L (812oz)
61 x 30 x 18cm (24 x 12 x 7in)