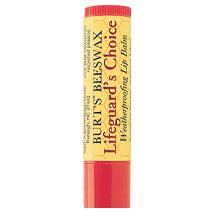 Burts Bees Lifeguards Choice Lip Balm
Many lip products on the market are made with petroleum, but petroleum dries your lips so you end up needing more. Burt's Bees lip products are made with good stuff like beeswax, honey and essential oils.
BEESWAX - A natural wax made by bees in the cell walls of honeycombs. Beeswax is a natural emulsifier used in cosmetics. Adds a wonderful natural smell and color, and helps to seal and protect the skin when used to moisturize.
WHY IT WORKS:
Guard your lips from the drying effects of the sun, wind and sea. Lifeguard's Choice Lip Balm is similar to our beeswax lip balm, with added titanium dioxide for extra protection. While the lifeguards are out saving lives, we're out saving lips.
HOW IT WORKS:
Apply balm liberally to lips before venturing outside. May also be applied to cheeks, nose, ears or anywhere you want natural protection from the elements.
QUANTITY: 0.15 oz. tube
INGREDIENTS:
TUBE: Beeswax, coconut oil, sunflower oil, tocopheryl acetate (vitamin E), lanolin, titanium dioxide, peppermint oil, comfrey root extract, rosemary extract.
95.29% Natural:
At Burt's Bees, they label every product they make with what they call a "natural bar." This bar discloses exactly how natural that specific product is. Many of the things they make are 100% natural, but sometimes they can't be. Once in awhile, they have to create something in their "kitchen" in order to offer you the best products possible. For example, Vitamin E is an essential part of any skin care regimen, but it does not remain stable in its natural state. So when you see the words Tocopheryl Acetate on one of their labels, it's just their fancy word for Vitamin E.