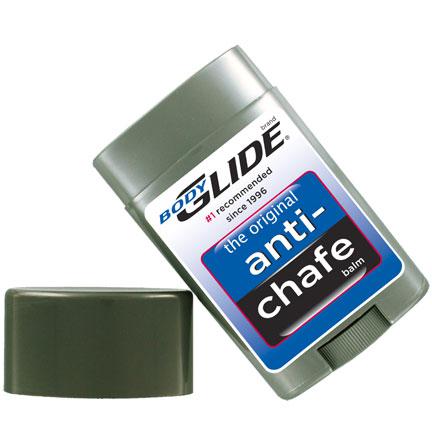 BodyGlide .45oz Travel Size Anti-Chafe Balm
Skin Formula is a unique all natural skin lubricant created to stand up to rubbing and moisture, prime causes of skin irritation. It helps stop skin trouble before it starts, and it helps aviod the need for first aid products. It is remarkably comfortable and reliably effective. Skin Formula is not another liquid, powdery substance, lotion, potion–or an empty promise.
Skin Formula helps guard against friction - and it helps moisturize skin and protect it against dryness, cracking, and a range of specialized skin needs. It works in dry, hot, cold, humid, and even wet conditions - and it stands up to wind, fresh and salt water.
The formula combines all natural plant-derived triglycerides (waxes), with aloe and vitamin e – and it's packaged in a convenient stick. Skin Formula is not messy and it does not evaporate - which sets it apart from all the products made with petroleum, mineral oil, lanolin, water or alcohol. It works with surface skin cells to create an invisible barrier. It feels soft, not oily, sticky or wet, it's invisible, and it doesn't fly away like a powder. Instead, it works and stays where you apply it.