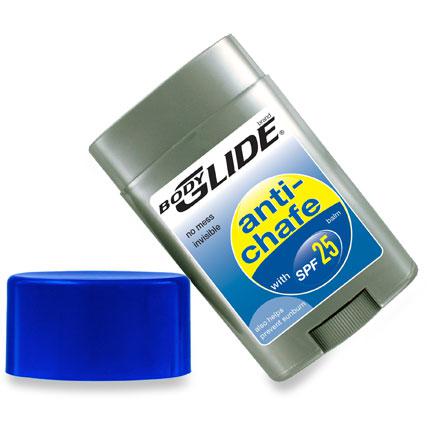 BodyGlide .45oz Anti-Friction & Sun Formula
BodyGlide Sun Formula was the first to uniquely combine anti-friction features with benefits of SPF 25 sunscreen. Sun Formula is a true muti-use product. It can help protect your skin against painful effects of rubbing (friction)—and it can help protect your skin from the sun. Sun Formula is for either—or both purposes. It is formulated to work like BodyGlide Skin Formula—or to be a stand-alone sunscreen—or both. Sun Formula is technically advanced to help stay in place long after other sun products have evaporated, melted or dripped from the surface of your skin. It creates a soft, invisible barrier that stands up to heat, moisture (including fresh and salt water), cold and wind, to help guard your skin against rubbing (friction) and sun.
As with any sun product, it should be applied 15 to 30 minutes before skin is exposed to sun, and again, after swimming. (See the packaging for specific information about sun exposure.)
Everyday, in Sports and Outdoor, and On the Job—for its greaseless barrier that helps guard skin. And even while it stands up to moisture, it allows your skin to breathe and perspiration to escape.