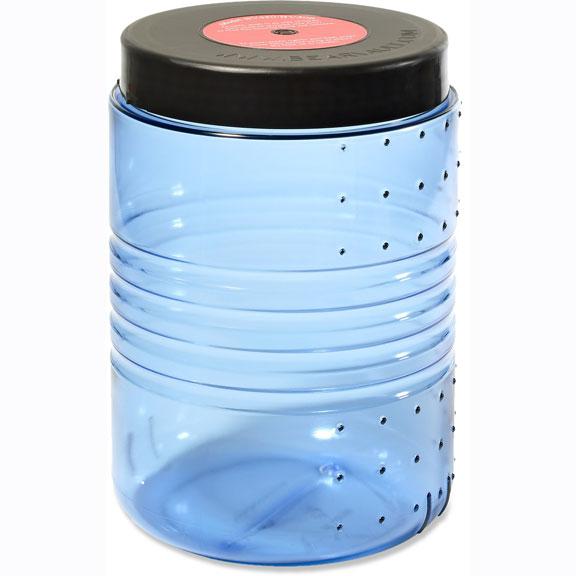 BearVault BV 500 Bear Resistant Canister
Approved bear canisters are recognized as the only effective portable means of food storage in certain areas.
Lighter for backpacking when every ounce counts!
Super rugged transparent polycarbonate housing resists impacts without shattering!
Innovative patent pending design so you can open and close the lid without tools!
Extra wide, rain proof opening provides full access for loading, unloading, and finding items!
Built in guides keep tie down straps in place so extra carrying case is not needed to attach to backpack!
Weight: 2 lbs 9 oz.
Interior volume (usable space): 700 cubic inches (11.1 ltr): 7 days capacity
Dimensions: 8.7in. dia. (22.1cm) x 12.7 in. (32.3 cm)
California Resident Information from BearVault:
BearVault cares about the safety of its products and is committed to compliance with all applicable health and safety requirements. California's Proposition 65 law requires the following warning to be given to consumers in California:
WARNING: This product contains chemicals known to the State of California to cause cancer and birth defects or other reproductive harm.
Our polycarbonate housing contains BPA (bisphenol-A), one of the 950 chemicals subject to Prop 65. The concentration of BPA in our product is minuscule, but still present: less than 100 ppm (parts per million) – in other words, it makes up less than 0.0001 of the canister housing, according to our supplier. A Prop 65 warning informs consumers of likely exposure; Note, however, that it is not a regulatory decision that a product is "safe" or "unsafe".
If you are concerned about exposure, you can reduce it with actions like washing your hands after using our products. We also recommend that you use and care for the product as follows:
Pack your food in bags or containers within the BearVault. This minimizes exposure, and also helps with organization and keeping the food clean for your consumption while you're working in your camp kitchen. Wash your canister with cold water and a mild soap. Use hot water only if necessary. Keep your canister away from damaging chemicals, like DEET.
Prop 65 D (BPA): This product can expose you to BPA (bisphenol-A), which is known to the State of California to cause birth defects or other reproductive harm.
https://mtn-sports.myshopify.com/pages/prop-65-frequently-asked-questions