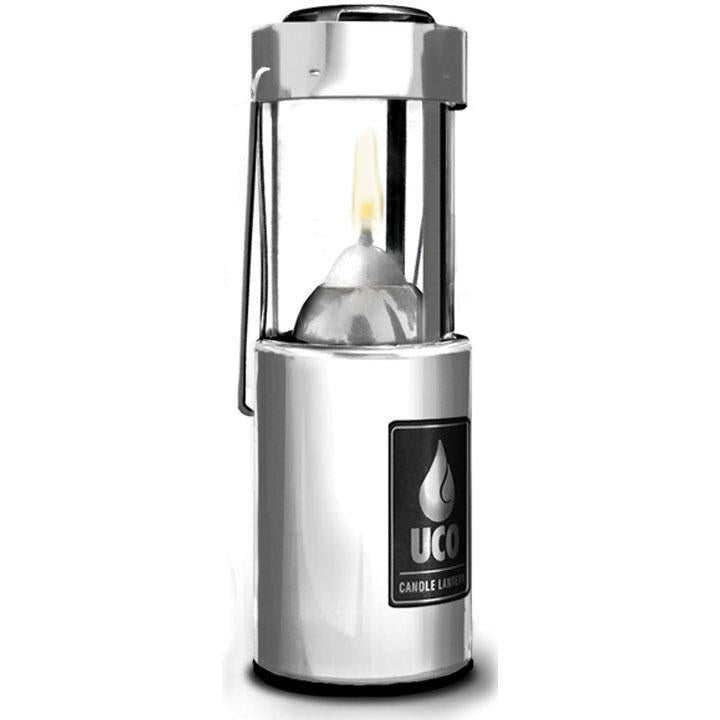 UCO Aluminum Candle Lantern
An essential product for every household and campsite. This lantern provides hours of safe, trouble free light and warmth for the house or tent. The spring loaded candle chamber keeps flame height constant.
Collapsible - our patented design allows the lantern to telescope closed, protecting the glass chimney while travelling or hiking.
Convenient Handle - Stainless steel handle makes the Candle Lantern easy to hang and carry.
Constant Flame Height - our unique spring loaded candle tube keeps the flame height constant while a small viewing window shows how much candle remains. Each candle burns for up to 9 hours.
Economical - the Candle Lantern is affordable to purchase and economical to use. Other lanterns can cost up to $2.00 per hour to operate, the Candle Lantern costs only about 9 cents per hour.
Safe - No combustible fuels, no complicated starting procedures.
Reliable - no batteries to fail and replace, no mantles or bulbs to break.
Environmentally Friendly - no batteries or fuel cartridges to dispose.
Lifetime Parts Guarantee - see below
Made in U.S.A. with top quality materials and workmanship.
Specifications: Weight Aluminum 7.5 oz. (210 grams) including candle
Dimensions: Collapsed 2.0" X 4.25" (5.0 cm x 11.0 cm) Open 2.0" X 6.5" (5.0 cm x 16.5 cm - excluding bail)
Burn time: 9 hours (one candle)
Prop 65 E (Carbon Monozide): This product can expose you to chemicals including carbon monoxide, soot, and other combustion by-products, which are known to the State of California to cause cancer and birth defects or other reproductive harm.
https://mtn-sports.myshopify.com/pages/prop-65-frequently-asked-questions