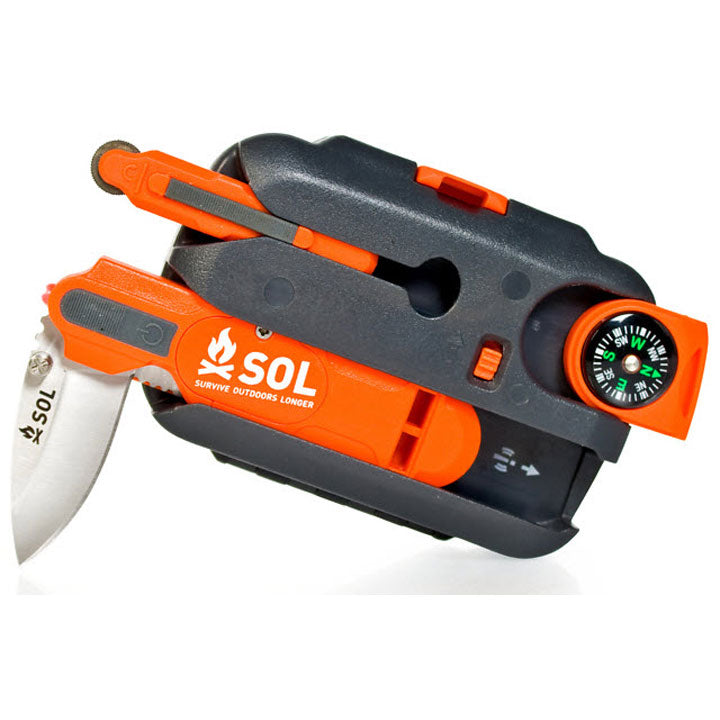 Adventure Medical Kits S.O.L. Origin Survival Tool
The Survive Outdoors Longer Origin™ redefines the survival kit from the ground up. In one product that fits in the palm of your hand, the Origin™ gives you the collection of tools you need to survive the unexpected and make it back alive. Think of it as the ultimate cross breed of the traditional ten essentials and a survival kit, all wrapped up in one lightweight, easy to carry, indestructible package. The heart of the Origin™ is its ABS-plastic waterproof case, which contains an array of key survival tools, including TinderQuik fiestarting tinder, 150lb-test braided nylon cord, mil-spec stainless steel wire, and an emergency sewing and fishing kit. And, for those unfamiliar with wilderness survival, backcountry expert Buck Tilton's survival instructions contain over 60 survival techniques and strategies. However, the body of the case is really what sets the Origin™ apart - integrated into the lid is a flip-up Rescue Flash signal mirror with retroreflective aiming aid. Flip the case over, and find the one-hand-operable Fire Lite firestarter, as well as a removable liquid-damped compass. Finally, secured in a button-release slot is a fully-functional folding blade knife, with a 100db rescue whistle and ultra-bright LED light integrated into the knife handle. The AUS-8 drop-point blade has been designed for the precision cutting you need during survival emergencies, and it excels at slicing, whittling, and any task where blade control is essential. The SOL Origin™ is the lightest, most space efficient, and most durable survival kit on the market. Welcome to the future of survival – the Origin™ is mandatory equipment for any outdoor adventurer.
Weight: 6.25oz
Size: 3.875" x 2.75" x 1.5"
AUS 8 steel blade with lockable liner is harder, holds an edge longer and sharpens easier than common steel.
Rescue Flash Signal Mirror flips open from top lid and features 20 mile signal power.
Fire Lite striker emits a powerful shower of sparks.
Whistle - pealess and fail-safe up to 100db.
10 lumen LED light provides powerful task lighting.
Removable directional compass.
Waterproof compartment protects your valuables.
Additional 10' stainless steel wire, 10' nylon cord, foil, tinder and survival instructions help you get back alive.
Sewing 1 Sewing Needle, #7, Darner
Survival Instructions 62 Lifesaving Tools & Techniques
Survival Tools
1 Aluminum Foil, Heavy Duty, 3 Sq. Ft.
1 Combination Knife, LED Light & Whistle
1 Compass, Button, Liquid Filled
1 Fire Lite Fire Striker
4 Fish Hook, #10
1 Fishing Line
1 Safety Wire, Stainless Steel, (6 ft of 0.020")
1 Signal Mirror, Rescue Flash
2 Snap Swivel, Size 12
2 Split Shot, Lead B
4 Tinder Quick
Prop 65 G (Wood): The combustion of wood, charcoal, and other fuels can expose you to chemicals including carbon monoxide and soot, which are known to the State of California to cause cancer and birth defects or other reproductive harm.
https://mtn-sports.myshopify.com/pages/prop-65-frequently-asked-questions